New York Accident Attorney Fighting To Get You The Money Damages You Deserve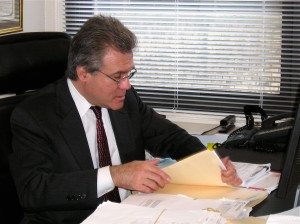 New York Accident Attorney Protecting Accident Victims' Rights Since 1979
We understand the needs of accident victims and their families. In addition to the pain and suffering our clients endure as a result of a serious injury, they and their loved ones often struggle with severe financial burdens as a result of being out of work and being confronted with mounting medical bills. Therefore, as an experienced New York Accident Attorney since 1979, Michael W. Goldstein understands the importance of aggressively and quickly protecting our clients' legal rights. While we strive to achieve a prompt resolution of each client's case, we strongly believe that each accident victim is entitled to receive fair and adequate compensation for his or her injury. Keeping these goals as paramount, we do not sacrifice a client's legitimate entitlement to fair and just compensation, solely to obtain a quick settlement. We aggressively investigate and relentlessly pursue your case in order to achieve the best results for you! Click on testimonials to see what our clients say about our firm.
Put Our Experienced and Aggressive New York Accident Attorney On Your Side
Michael W. Goldstein, a New York Accident Attorney representing seriously injured accident victims throughout New York State has been practicing New York personal injury law since 1979, and has extensive experience representing victims of the following types of accidents:
•automobile accidents
•motor vehicle collisions caused by uninsured or under-insured motorists
•motor vehicle collisions caused by unidentified drivers (hit and run accidents)
•collisions involving a taxi, car service or other livery vehicle
•accidents involving a bus, truck, train or other commercial vehicle
•motorcycle accidents
•bicycle accidents
•rollerblade accidents
•in-line skating accidents
•pedestrian accidents
•trip and fall accidents caused by defective conditions, improper maintenance, repair or cleaning, or other negligence
•premises accidents caused by overcrowding, inadequate supervision, improper security, etc.
other accidents caused by a defendant's negligence
•construction site accidents (including falls from defective ladders and scaffolding; accidents involving defective hoists; accidents caused by dangerous construction site conditions, or other unsafe working conditions; violations of worker safety rules including OSHA; and other accidents occurring at construction sites)
•On the job injuries (In New York State, victims of accidents occurring during the course of their employment are usually entitled to Workers' Compensation benefits. In addition, they might be entitled to receive money damages for their pain and suffering, loss of enjoyment of life, permanent injuries, lost earnings in excess of Workers' Compensation benefits, loss of future earning capacity, etc.)
•fatal accidents (We represent the families of wrongful death accident victims who have been fatally injured due to accidental injuries.)
We Know Both Plaintiffs' And Defendants' Strategies In New York Personal Injury Litigation
Although most of our personal injury practice is devoted to representing injured plaintiffs, we have also represented several insurance companies in the defense of accident cases. Accordingly, we have the additional advantage of knowing both plaintiffs' and defendants' strategies in New York personal injury litigation.
No Legal Fee Unless We Recover Money Damages
We accept New York personal injury cases on a one-third contingency fee. A contingency fee means that there is no fee charged to the client unless we recover money damages. New York law provides that the legal fees and expenses are paid at the conclusion of the case.
New York Accident Attorney Representing Seriously Injured Accident Victims Throughout New York State
We accept serious personal injury cases anywhere in New York State, including New York City (Brooklyn, Manhattan, Bronx, Queens, and Staten Island), Long Island, Nassau County, Suffolk County, Rockland County, Westchester County, and upstate New York.
We represent both residents of New York, as well as visitors to New York, who are injured in accidents that occur in New York State.
Free Confidential Consultation with our Highly Experienced New York Accident Attorney
We are available to discuss your case by phone or in person.  If you were seriously injured (such as a fracture, torn meniscus, torn ACL of the knee, torn rotator cuff of the shoulder, or any injury requiring surgery, and need a New York Accident Attorney,  we invite you to call us for a free, confidential, no obligation telephone or in-person consultation to discuss your case with a New York Accident Attorney, or click Personal Injury Questionnaire to tell us about your accident. To send an email, simply click Contact Us  Your submission will be reviewed by am experienced New York Accident Attorney.  There is no obligation to retain our law firm.
Need Information Now?
If your accident occurred in New York State, visit our other informative pages for valuable information that may be important to you:
Can I Sue For My Injuries
Personal Injury Guidelines
Your Legal Rights
Document Deadlines
Frequently Asked Questions
Insurance Information
Glossary
New York Accident Attorney Accepting Referrals of New York Accident Cases from Other Law Firms
We accept New York personal injury cases from other attorneys, both inside and outside of New York.. Co-counsel fees are paid as permitted by New York law. If you are a referring attorney, simply click Attorney Referrals to tell us about your client's New York accident case.
New York Accident Attorney Disclaimer
Visiting our website, submitting any information via questionnaire or email, or discussing your case with us does not create an lawyer-client relationship. A lawyer-client relationship with our law firm can only be established with the signing of a written retainer agreement prepared by our law firm.
Prior results do not guarantee or predict a similar outcome with respect to any future case or legal matter.
The New York personal injury, accidental injury, and other legal information contained in this website is not intended to constitute legal advice, nor to create an attorney-client relationship or lawyer-client relationship. We recommend that you discuss your accident case with us, or another New York Injury Lawyer or NY Accident Attorney promptly, since there are strict time restrictions that apply to New York accident cases.
This website is not intended to solicit clients for personal injury cases outside of New York State. However, we do represent accident victims who live outside of New York, who were seriously injured in an accident occurring in New York State.
New York Accident Attorney At Law representing clients who have sustained serious accidental injuries in motor vehicle collision, hit & run accident, uninsured motorist accident, under-insured motorist collision, motorcycle collision, pedestrian accident, bicycle accident, roller blade accident, in-line skating accident, premises accident, trip & fall accident, construction site accident, or on the job accident that occurred in New York State, as well as wrongful death or accidental death caused by a NY accident. New York City, Bronx, Brooklyn, Manhattan, Queens, Staten Island, Long Island, Nassau County, Suffolk County, Westchester County, Rockland County and upstate New York.
Law Offices of Michael W. Goldstein, a New York personal injury law firm
New York Accident Attorney Representing Seriously Injured Accident Victims Throughout New York State
299 Broadway
Suite 800
New York, New York 10007
Telephone: (212) 571-6848
Attorney Advertising